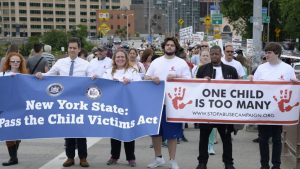 Prior to its passing, victims only had until the age of 23 to seek prosecution. Effective February 14, 2019, the law also allows victims until the age of 55 to commence civil proceedings against both their abuser and any institutions that enabled the transgression.
Additionally, the Act includes a one-year window during which a child sexual abuse victim may bring civil action, regardless of how long ago the incident or incidents occurred. Eight other states are considering similar legislation.
If You Were a Victim, You Might Be Entitled to Compensation 
During the one-year window, child sex abuse victims of any age have the right to pursue damages regardless of the usual statute of limitations that would apply to their case. Supporters of the new legislation argue that a much longer deadline is needed in these cases since victims often suffer in silence, afraid to bring the past trauma to light and contend with the shame and humiliation. In fact, CNN reports that most victims of child sexual abuse do not disclose anything at all, and the average age of those who do is 52.
Advocates hope the new legislation not only will benefit victims but also will save other children from suffering the same fate.
In large part, the new legislation was inspired by the many thousands of reports alleging child sexual abuse involving Catholic Church clergy and the Boy Scouts of America. Dozens of lawsuits have been filed as a result of alleged child rape committed by priests, deacons, and scoutmasters, resulting in millions of dollars in damages awards.
Although no amount of money can undo the trauma suffered by child sexual abuse victims, the new legislation provides an opportunity to hold child rapists accountable for their egregious actions. It's not uncommon for people accused of child sex abuse to relocate and infiltrate other youth-serving organizations. Advocates hope the new law will inspire victims to come forward and identify their abusers so they can be brought to justice.
Discuss Your Case with a Child Sex Abuse Attorney in New York City  
If you suffered sexual abuse as a child and you want to bring a civil claim against the perpetrator or the institution that allowed the action to take place, contact Charnas Law Firm. We understand how challenging it can be to come forward, and we promise to compassionately and aggressively represent your interests.
Attorney Scott Charnas provides legal services to clients in both New York and Massachusetts. He has recovered numerous six- and seven-figure settlements and verdicts in high-stakes, complex cases. He has also been rated as a Super Lawyer and has earned an AV-Preeminent rating from Martindale Hubbell. Call 212-980-6800 or fill out our Contact Form to schedule a free, confidential consultation with a personal injury lawyer in New York City.